Interaction between venoarterial extracorporeal membrane oxygenation (V-A ECMO) and the brain : example of differential hypoxemia.
Interaction entre assistance extracorporelle veino-artérielle (ECMO VA) et cerveau : exemple de l'hypoxie différentielle
Femoral-arterial V-A ECMO can cause "differential hypoxemia", a situation where the hyperoxic laminar flow of the ECMO going up the aorta meets the hypoxemic pulsatile flow of the native heart going down the aorta. This encounter occurs in a zone called the "mixing zone" (or watershed). The objectives of this work were to create an ex vivo and an in vivo models to study the parameters and consequences of differential hypoxemia. Thus, in a first step, we modified an existing mock circulation loop to add an aortic arch and a V-A ECMO circuit. In this ex vivo model, only temperature variations in the right subclavian artery (accessible through the radial artery in clinical practice) were predictive of the position of the mixing zone. In a second step, to define the appropriate in vivo model, we performed a meta-analysis of animal models of cardiogenic shock under V-A ECMO. Nineteen studies were included in our analysis and show that methods and data were very poorly reported, and that a very large variability regarding models of cardiogenic shock, animals used and management of ECMO existed. Thus, we chose to perform an ovine model of cardiogenic shock induced by intraventricular injection of ethanol. This model - respecting strict criteria for the definition of cardiogenic shock - had the advantage of being titratable and reproducible. We thus obtained a model supported by V- A ECMO with hypoxemia through the reduction of mechanical ventilation, creating a model of differential hypoxemia confirmed on a clinical, biological and histological level. Finally, in the last step, we randomized our sheep in two groups according to the level of ECMO support: low flow (2.5 L/min) or high flow (4.5 L/min). In the low-flow group, the brain was fully perfused by the native heart. In the high-flow group, the brain was partially perfused by the ECMO. We observed lesions compatible with ischemic-hypoxic damage after only a few hours of differential hypoxemia. These lesions were significantly reduced in the high flow group, explained by a switch to an aerobic mechanism.
L'ECMO VA fémoro-fémorale peut être à l'origine d'une « hypoxémie différentielle » lorsque le flux laminaire hyperoxique de l'ECMO remontant le long de l'aorte rencontre le flux pulsatile hypoxémique du cœur natif descendant le long de l'aorte. Cette rencontre a lieu dans la « zone de mélange ». Les objectifs de ce travail étaient de créer des modèles ex vivo et in vivo d'étude des paramètres et des conséquences de l'hypoxémie différentielle. Ainsi, dans un premier temps, nous avons modifié une boucle de circulation (mock loop) afin d'y adjoindre une crosse aortique et un circuit d'ECMO-VA. Dans ce modèle ex vivo, seule la variation de température de l'artère sous-clavière droite (accessible en radial en pratique clinique) était prédictive de la position de la zone de mélange. Dans un second temps, afin de définir le modèle in vivo adéquat, nous avons réalisé une méta-analyse des modèles animaux de choc cardiogénique sous ECMO- VA. Les dix-neuf études inclues dans notre analyse montrent que les méthodes et données étaient très mal rapportées et qu'il existait une très grande variabilité concernant les modèles, les animaux et la gestion de l'ECMO. Ainsi, nous avons créé un modèle ovin de choc cardiogénique induit par l'injection intra-ventriculaire d'éthanol. Ce modèle respectait des critères stricts de choc cardiogénique et avait l'avantage d'être titrable et reproductible. L'hypoxémie était induite par diminution de la ventilation mécanique, résultant en un modèle d'hypoxémie différentielle confirmé cliniquement, biologiquement et histologiquement. Enfin, dans un dernier temps, nous avons randomisé nos brebis en deux groupes: bas débit (2,5 L/min) ou haut débit (4,5 L/min) d'ECMO. Dans le groupe bas débit, le cerveau était entièrement perfusé par le cœur natif. Dans le groupe haut débit, le cerveau était lui partiellement perfusé par l'ECMO. Nous avons observé des lésions de type ischémie-hypoxie après seulement quelques heures d'hypoxémie différentielle. Ces lésions étaient significativement moindres dans le groupe haut débit avec un retour vers un mécanisme aérobie.
Fichier principal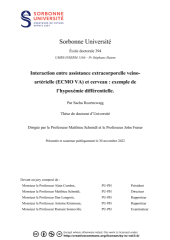 ROZENCWAJG_Sacha_these_2022.pdf (15.81 Mo)
Télécharger le fichier
Origin : Version validated by the jury (STAR)